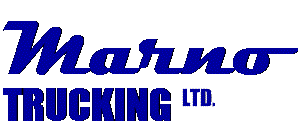 Rudy Stromsten got into trucking at a young age, working with his dad Laurence Stromsten who was in the excavating business and a pioneer of the south Langley area. In 1990 he got into the gravel industry in as R. Stromsten Transport and has been delivering and selling gravel to home and property owners ever since.
Rudy purchased Marno Trucking Ltd., (formerly J. Marno Trucking Ltd) from Jack Marno in June 2013 after having worked with J. Marno Trucking for the last 20 years he felt purchasing the company which proudly served the Fraser Valley for the past 50 years would be a natural fit for him.
Marno Trucking Ltd. has 4 truck & transfer trailers of their own as well as a seemingly endless amount of qualified owner operators that work with them.
Marno Trucking Ltd.'s goal is to proudly carry on with providing a great service with competitive prices to all our customers ranging from home and property owners, builders, contractors, horse farms, landscapers, excavation companies, everyone and anyone who needs their products.
Rudy says that he believes customer service is done when a customer feels satisfied enough that they would want to refer us to someone they know.
With Marno's 50 years of business, Marno trucking has the ability to supply only the best materials at competitive prices to any area from our many suppliers throughout the Fraser Valley.
Give them a call today at 604-857-0381 or 604-534-5081 and learn what good service can mean for you.